Tohoku - Remembering 3.11 -
---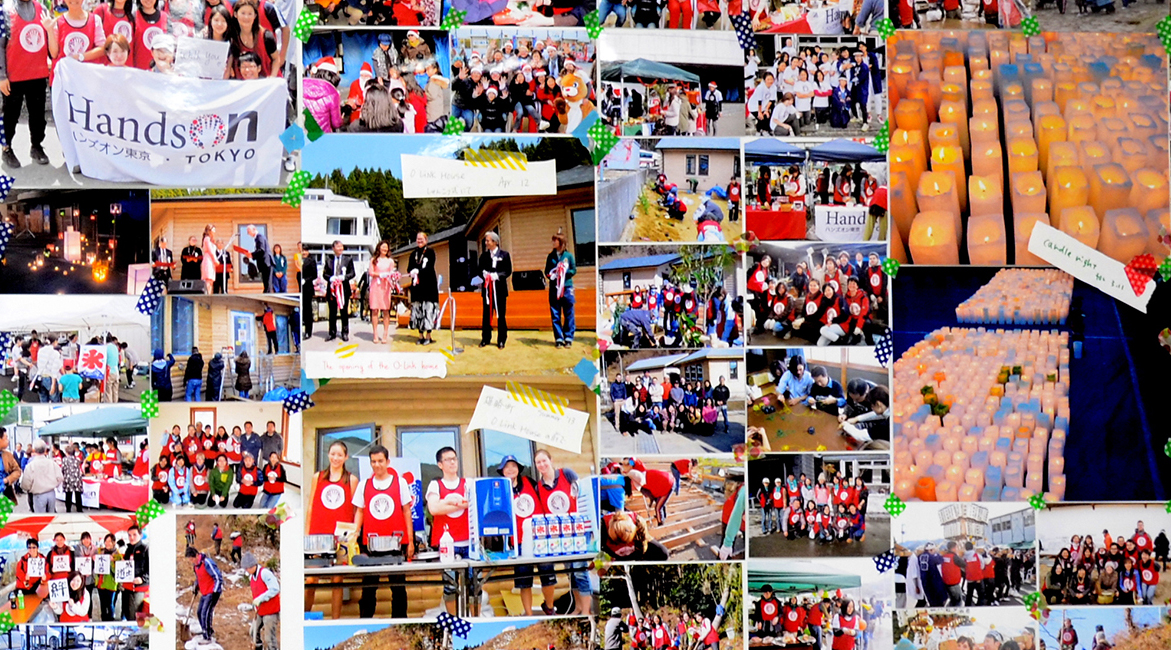 14:46, March 11, 2011
We could never forget this day and time.
The huge earthquake of magnitude 9,intensity 7 rocked even Tokyo far away from the epicenter, urging me to rush home. When I saw the tsunami on TV, it was hard for me to believe that it was actually happening.
Amidst the continuous aftershock and fear, trying to stay warm in the light as the sun went down, I was thankful that my family members were safe, and at the same time my thoughts went out to those in Tohoku who were in the unimaginable situation. What could I do?
Despite the lack of information about the actual magnitude of the disaster, Hands On Tokyo's support of the devastated region began right after the Great East Japan Earthquake. We chartered big buses as our means of transportation and we began our Tohoku Support Project bringing as many goods and volunteers as much as possible to the affected areas. By the end of 2019, we had made more than 200 trips and 5,540 volunteers participated in our projects. What started as cleaning the debris and mud from the houses grew to friendly exchange events at temporary housing complexes to help farmers. Our activities differed according to the needs of those affected. All of us felt the importance of not only supporting through labor, but also providing emotional support. We don't remember when, but people began to welcome us as saying, "welcome home". When we left after work, they always waved at us until they were unable to see the bus- then, we all looked forward to our next visit.
When people become considerate of other people's feelings, "power" is generated. Through our initiatives to support the victims of the disaster, we received so much energy and courage from them. 10 years after the earthquake, revitalization is in progress. Roads run through and houses are built in the places that were once filled with debris. New towns are born on higher grounds as well. This proves the strength of the people in Tohoku.
On the other hand it is important that each of us never forget the Earthquake, and pass on what had happened from generation to generation. Today after 10years from the Earthquake, we would like to pay our deepest sympathy to those who lost their family members by this Earthquake. We are aware that there are 20,000 victims including those who are not found yet.
We would like to express our sincere gratitude to all the volunteers who supported our Tohoku Support Project , and to all our partners at Yamamoto-cho and Ogatsu, where our activities were mainly based.
What we could do now that 10 years have passed? With our past experience, especially now that all of us in the world are facing the difficulty of global pandemic, we would like to re-examine what each of us can do.

Naho Hozumi
Program Manager
and
Hands On Tokyo Team