Youth Summit
---
Please Save the Date!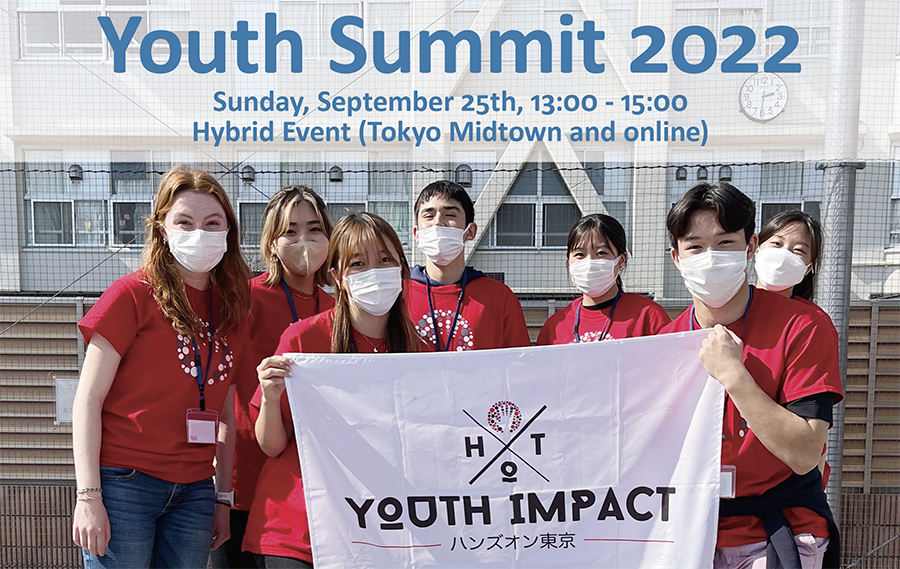 "Youth Summit 2022"
Sunday, September 25th, 13:00 - 15:00
Hybrid Event / Tokyo Midtown(Roppongi) and online

*Japanese/English interpretation will be provided.
*Registration will start in late July.
----
Social Innovation for our future
Hands On Tokyo "Youth Summit 2022"
Our "Youth Summit 2022" is an event where high school students, university students, and young people in their 20s (youth) present their ideas for solving various issues under the theme of "social innovation," which focuses on social issues and working toward solutions.
This project started in February of this year, and groups of youth have been devising and implementing ideas that can solve problems in four areas: Children's Home, Special Needs, Poverty, and Environment.
The "Youth Summit 2022" will be held on Sunday, September 25th, from 1:00 p.m. at Tokyo Midtown, Roppongi, where nine youth groups will present their ideas. The group that wins the grand prize, "Hands On Tokyo Best Future Activity," will then be supported by Hands On Tokyo to implement their idea.
Hands On Tokyo "Youth Summit 2022" will bring together great ideas for social innovation for our future!
----
MC: Seiichiro Yonekura


Professor of Hosei University
Professor Emeritus of Hitotsubashi University
President of Creative Response-Social Innovation School

Professor Seiichiro Yonekura received his B.A.s (in both Social Studies and Economics) and M.A. (Social Studies) from Hitotsubashi University in Tokyo and Ph.D from Harvard University in the United States of America. He is also President of Creative Response-Social Innovation School, an open school specialized in social and SDGs innovation and Chief Editor of Hitotsubashi Business Review, one of the most prestigious business magazines in Japan. His current research interests are on a historical development of innovation and entrepreneurship in a global business context and a social business and social entrepreneurship in the BOP (base of pyramid) market and SDGs challenges. He loves golf and rock'n roll.
■Inspiration Talk Guest Speaker

Robin Takashi Lewis


Co-Founder, mymizu
Representative Director, Social Innovation Japan

Robin is an award-winning social entrepreneur, educator and speaker based in Japan. He is Co-founder of mymizu, a platform to reduce consumption of single-use plastics through the power of technology and community. He is also the Representative Director of Social Innovation Japan, a platform for social good focusing on the UN Sustainable Development Goals (SDGs), named by Nikkei as one of the '100 companies building the future of Japan' and a two-time winner of Japan's 'Minister of Environment Prize'. For 10+ years, Robin has worked with social enterprises, NGOs and inter-governmental organisations, including the World Bank and UNDP, and has managed sustainable development projects around the world, including in Japan, Haiti, Vanuatu and Mozambique. In 2020, he was recognised by M.I.T. Technology Review's 'Innovators Under-35' Awards and in 2022, won Business Insider Japan's 'Beyond Millennials' Award in the Circular Economy category. He holds Board Member positions at Shibuya QWS and Youth4Nature, and graduated with an M.A. in International Business from the University of Edinburgh, UK.
Daichi Konuma
Co-founder and CEO of Cross Fields
http://en.crossfields.jp/

MA in Sociology, Hitotsubashi University. Two-year field experience as a JICA volunteer in Syrian Arab Republic. Worked at McKinsey & Company, and co-founded Cross Fields in 2011. Selected as a Global Shaper (Tokyo HUB) by the World Economic Forum in 2011. An executive board member of Japan Association of New Public (JANP) and the Japan NGO Center for International Cooperation(JANIC). Published "How to discover the purpose of work" (Diamond, Inc.) in 2016.