We Need Volunteers!
---
◇Hands On Tokyo with COVID-19 Project
Launched several new projects to meet the needs of our community.
Now looking for more volunteers!

If you are interested in joining these projects, please contact us at info@handsontokyo.org

■ Care package project
Due to the long-term effects of COVID-19, young people who had graduated from childrens' homes at the age of 18 and started living by themselves independently are in great need. To support them, childrens' homes are putting more effort than ever in connecting with them, hearing about their situation, and providing them supplies on a regular basis.
In response to these community needs, Hands-on Tokyo is proceeding with a project to deliver care packages (relief supplies) containing groceries and daily necessities donated by our volunteers to the childrens' homes.
(1) Sorting of food and daily necessities
In this project, we ask volunteers to sort and organize the donated groceries and daily necessities.
Location: Hands-on Tokyo Office
Time: We will contact you at a later date.
(2) Delivery (driver)
We ask volunteers to deliver care packages by car from our office to the facility. Please deliver about 5 care packages (cardboard boxes) at a time. The time required will be approximately 1.5 to 2 hours for a round trip.
Location: From Hands-on Tokyo Office to each facility
Time: We will contact you at a later date.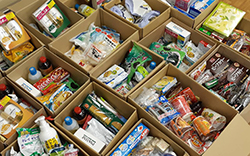 ■ Craft making project
Volunteer activities at the facilities are restricted due to the current situation. This activity is a project to donate crafts made by volunteers to lighten-up everyone living in the facilities and enable them to spend a more relaxing time. Anyone who is good at or interested in making crafts, such as seasonal decorations and daily calendars, is welcome. You can participate in this project while staying at home. Please share your craft ideas and more at our online meetings!
Location: Home
Time: We will contact you at a later date.
* Please participate in the online meeting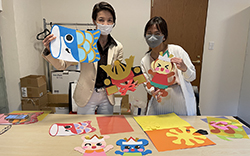 ■ Study assistance project for children in children's homes
It is difficult in general to secure sufficient time to teach individually at children's homes, and many children are in need of learning support.
In this project, we ask volunteers to support children by assisting their learning and make their learning time enjoyable. We believe that learning will eventually help them gain self-confidence.
Volunteers are asked to support junior high and high school students in learning English or math online once a month for one hour. We will create groups of volunteers and ask to take charge of supporting one child in each group.
Target: Japanese-speaking junior high and high school students
Subject: English or Math
Location: Home (online)
Time: Once a month for one hour to support children
* Please join online meetings for preparation.
* Since this project is intended for Japanese-speaking students, we require the volunteers to have a basic understanding of Japanese